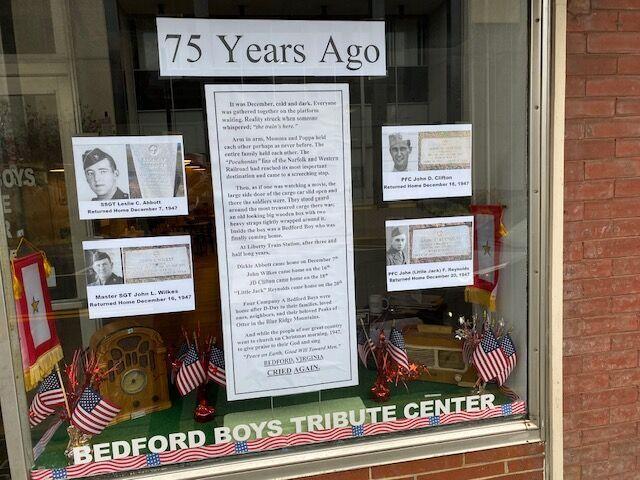 July 17 goes down as the day Bedford cried — the day the telegrams arrived telling Bedford families what happened to their men on D-Day. December, 1947, is the month Bedford cried again as the bodies of four of the Bedford Boys, whose families chose to have their remains repatriated came home. Dickie Abbott's body came home on Dec.7, Pearl Harbor Day, the anniversary of the attack that propelled America into the deadliest war in history. John Wilkes' body returned on Dec. 6. J. D. Cifton's body came home on Dec. 18. "Little Jack" Reynolds' body came home on Dec.30. In each case, there was a large gathering of family members on the platform at the railroad station to receive them.
The following is based on a talk that Ken Parker, curator of the Bedford Boys Tribute Center had with Marguerite Reynolds Cottrell, the little sister of "Little Jack." She had been a toddler when her brother picked her up and held her in his arms before leaving Bedford for the last time. She was seven as she waited with family, 30, of them in the early evening winter darkness on the train platform when the Norfolk and Western "Pocahontas" pulled in.
It was December, cold and dark. Everyone was gathered together on the platform waiting. Reality struck when someone whispered , " the train's here."
Arm in arm, Momma and Poppa held each other, perhaps as never before. The entire family held each other. The "Pocahontas" line of the Norfolk and Western Railroad had reached its most important destination and come to a screeching stop.
Then, as if one was watching a movie, the large side doors of the cargo car slid open and there the three soldiers were. They stood guard around the most treasured cargo there was; an old looking big wooden box with two heavy straps tightly wrapped around it. Inside the box was a Bedford Boy who was finally coming home.
Other bodies came back at other times, and received emotional welcomes. In the case of Frank Draper, his mother insisted that the funeral director open the casket so she could be sure it was really her son. It was. American graves registration personnel are meticulous.