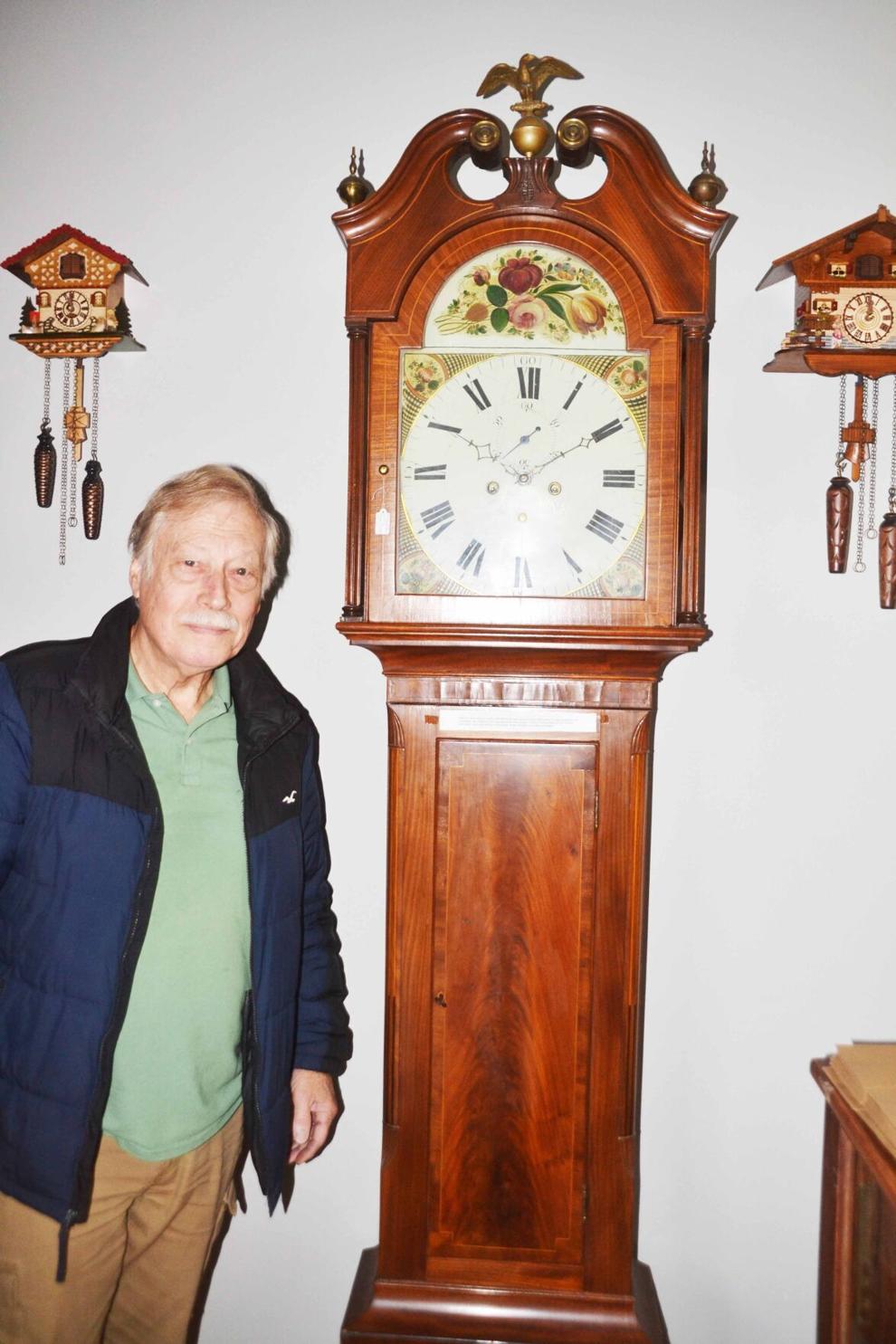 Don Adams has opened a clock museum on North Bridge Street, right next door to the Bedford Boys Tribute Center.
Adams has been repairing old clocks for 40 years. The first one was a shelf clock and it was in bad shape. It had had a massive internal failure that actually broken its case. He had to take it apart, repair the case, then fix the clock. He enjoyed doing this so much that he got into the business. It's satisfying for him to take an old clock, that is not working, and make it work again.
He has an extensive clock collection and all the clocks in the museum are his. He hopes later to get other collectors to loan clocks to the museum for display to allow the displays to be rotated monthly. The museum has extensive security with lots of cameras. You don't see them, but they are there. A few even allow him to speak to an intruder: "I see you and the police are coming."
There are a number of clocks. There is a grandfather clock, made in 1840, that keeps time and has a very pleasant chime on the hour. He also has a double wind clock, which he said is rare. It has two mechanisms.
"When you wind both of them, it lasts longer," he said.
Another unusual clock is a rolling ball clock. It has a tilted metal plate with a zig-zag course on it. A metal ball runs along the course. When the ball reaches the end of the course, the hands move, the plate reverses its tilt and the ball rolls back to the other side, again reversing the plate's tilt and moving the hands. Back and forth, back and forth, never stopping. The rolling ball controls the timing of the mechanism and the weight of the ball and length of the course were precisely calculated so that it takes an exact amount of time for the ball to reach the end of the plate. This clock was built in 1865 by the British clock maker who built Big Ben.
He as a picture frame clock. There painting on the glass face of the clock was painted in reverse, on the back of the clock so that you see to picture properly from the front. This clock is a little over 200 years old.
Adams has a few working clock mechanisms on display that lets visitors see the inner workings of a mechanical clock.
There is also a cuckoo clock. It works and you will hear it cuckoo if you stick around.
One curious clock is an electric clock from the 1940s. It looks like a World War II B-17 bomber. When the alarm goes off, it consists of the clock making engine sounds. When it does, the propellers spin and the red and green navigation lights on the wingtips blink.
He has more clocks in his collection and plans to bring one in from the 1700s. This clock has wooden gears, made of black walnut. Adams said colonial clockmakers often made clocks with wooden gears because they had to import brass from Britain and that was expensive. America, however, had lots of wood.
"Walnut is a very hard wood, " Adams said.
There is a small theater at the back of the museum and people can bring up a video that shows the history of keeping time, from sundials to the present time.
There is a person in the museum who can explain everything. If somebody asks her something that stumps her, she can get Adams.
"I'm just around the corner," he said.
Adams Clocks/Repairs is on East Main Street next door to the Blue Lady. He repairs antique clocks. Adams said antique clocks go up in value, so they are worth fixing.
He warns against do-it-yourself repairs.
"If you don't know what you are doing, don't take it apart," Adams warns.
Adams has seen, and repaired, some disasters. Sometimes he's seen clocks that were repaired with solder. Solder is not meant for that sort of thing and quickly gives out. Then Adams has to remove the solder before he can repair the clock. Once he repaired a clock that was brought to him as a bag full of parts. That was an expensive repair because, first he had to figure out how to put it back together before he could repair it.
Adams said it's possible to buy parts for old clocks. He has machine tools that will allow him to make parts. He can also do cabinet carpentry, so he can repair a damaged cabinet.
The Clock Museum is open Monday through Friday from 10 a. m. to 6 p. m. and Saturday from 10 a.m. to 4 p.m.
Adams Clocks/Repairs is open from 9 a.m. to 5 p.m. Tuesday through Friday and 9 a.m. to 3 p.m. on Saturday.